Let's take a closer look at the Visit tab in our new website's header.
---
Click on Visit to find our Locations, Mobile Library, and Accessibility pages.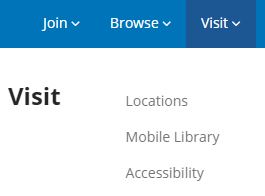 ---
Click on Locations, then select your local library to view hours and directions. Our location page now highlights each library's Facilities and Features. You might discover that your library has a seed library or local history collection! What new facility or feature did you discover about your library? 
---
The Mobile Library page includes a map and schedule of stops. You can also learn more about Mobile Library programs and become acquainted with the newest members of our fleet, Redwood and Poppy!
---
Click Accessibility for resources, accessible books, the types of services we offer, and contact information for our Accessibility Services team. 
---
We'd love to hear your feedback! 
We hope you'll have fun as you find your way around the new website. We encourage you to explore and send us your feedback by filling out our website feedback form. Please note that on December 14, our new website will replace our current website.