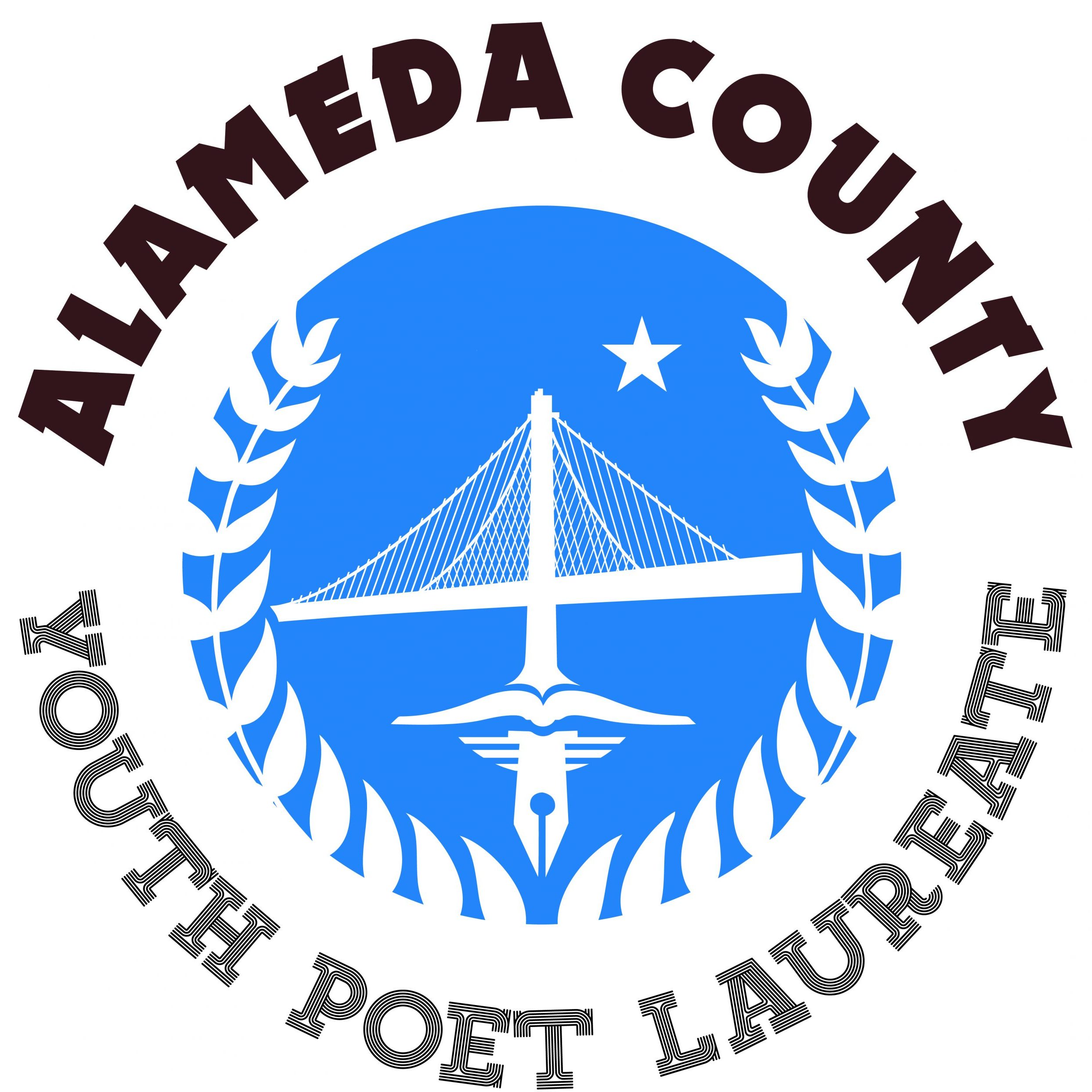 With great celebration, the Alameda County Youth Poet Laureate Team announces Zoe Dorado, junior at Castro Valley High School, as the Inaugural Alameda County Youth Poet Laureate!
Meet the Alameda County Youth Poet Laureate
With great celebration, the Alameda County Youth Poet Laureate Team announces Zoe Dorado, junior at Castro Valley High School, as the Inaugural Alameda County Youth Poet Laureate!
Zoe has been drumming for over eight years and has explored jazz, funk, Afro-Brazilian, and Afro-Cuban styles. She is interested in the way rhythm and meter unfold themselves into poetry as well as how storytelling can integrate itself into different art forms. Having been raised in the East Bay she has seen both the rich culture that it holds in one hand, as well as the structural violence and harm that disproportionately impacts Black and Brown folks it holds in the other. She writes poetry with the intention of connecting the personal to the political. With her writing, she works to excavate colonialism and patriarchy more thoroughly, and through grounding that in lived experience, hold space where the folks in her community can feel loved, respected, and heard. As the poet and educator Sarah Kay once said, "It is our duty to disturb the comfortable and comfort the disturbed". Zoe holds these words as a poet, a musician, and an activist to recognize that we are all in a continuous process of learning and rebuilding again and again. But this is a necessary change that requires courage, that if done in solidarity, will take our community forward into a bright and beautiful future.
Thanks to the Alameda County Library Foundation for sponsoring the Alameda County Youth Poet Laureate program.
Frequently Asked Questions
When are applications accepted and due?
Applications for the Youth Poet Laureate program will be accepted from Thursday, April 1 through Friday, April 30, 2021.
All applications are due on April 30, 2021.
What does the Youth Poet Laureate do?
The Laureate and the finalists will be invited to perform at public events throughout the year, and potentially beyond that year, such as serving as a judge in the future.
A year-long commitment (August 6, 2021 to August 5, 2022) to represent the Alameda County Youth Poet Laureate chapter. They must be living locally and cannot be enrolled in college full-time during this time frame.
The Laureate will be asked to perform and attend public and private events, at least four.
The Laureate may be asked to share their experiences, writing process, and values on online platforms.
The Laureate will have the ability to develop a community project to develop their writing craft and inspire the community.
The Youth Poet Laureate will need to write one "clean" poem that will be featured on the library website. The Youth Poet Laureate will also need to submit three poems for the national anthology by Urban Word, which will feature the work of all the 2021 Youth Poet Laureates across the country.
What does the Laureate title earn?
A grant of $500 to do some good at a community organization of their choice.
A MacBook and computer accessories.
The Laureate's poetry will be included in a chapbook with other chapter Laureates' work nationwide, and the Laureate will get several copies of this chapbook.
Alameda County Library and the REACH Ashland Youth Center will support the Laureate in their community project, we will field event requests, and support the Laureate cultivating their public speaking rhetoric style.
Any former Laureate between the ages of 13-19 can submit to be considered for the Regional Youth Poet Laureate, and one of the four Regional Youth Poet Laureates is selected to be the National Youth Poet Laureate. The first National Youth Poet Laureate, Amanda Gorman, performed at the 2021 Presidential Inauguration.
What needs to be in the application?
Three original poems showing your content, craft, and voice totaling no more than 10 pages.  Do not include your name in the document as the first round is anonymous.
Name and contact information of an adult sponsor who knows your writing, school performance, or community involvement. If you advance to the next round, you'll ask your sponsor to write a letter of recommendation. Ask for this way in advance so the letter will be submitted by May 31!
Artist statement: Introduce yourself! Tell us who you are and what poetry means to you. If you advance to the interviews, this will be used to create a bio. It needs to be no more than 250 words.
Resume: List of any awards you've earned, community service you've completed, work experience, or activism you have participated in.
Name and contact info of your legal guardian unless you are 18 by May 1, 2021.
How does this work? 
The first round of judging will be anonymous, based solely on the content, craft, and voice of your written poems. Learn more about the judging process.  For questions about the Youth Poet Laureate program, please email: ypl@aclibrary.org.
Submit your application for the Youth Poet Laureate Program now!
Submissions are closed.
Stay tuned for upcoming
Youth Poet Laureate events.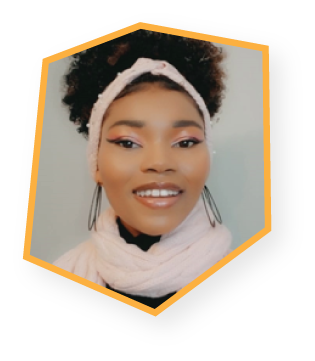 the 2016 Oakland Youth Poet Laureate, has performed nationwide, taught at multiple institutions of higher learning including various high schools and Stanford University, received a Resolution from the City of Oakland, and more. She spends her free time mentoring youth, volunteering, modeling, learning from elders of her community, and grassroots organizing. She is the founder of Melanin Elevatin Black Literacy Program and is currently working on expanding the program to meet a wider range of needs in the community. She is an Electrical engineering major, heading to law school post-graduation.
appointed in December 2012, is the first Black Chief Public Defender in Alameda County's history and is currently the only Black Chief Public Defender in the state of California. Woods has 20 years of experience in criminal defense litigation and leads 170 staff in providing superior legal defense in more than 3,000 new files monthly. Woods is committed to providing holistic representation to his clients and is a nationally recognized leader in public defense. He is a Board Member and former President of the California Public Defenders Association and was honored with the Harvard Law School Wasserstein Public Interest Fellowship for outstanding public service. From a young age, Brendon Woods had formative experiences with law enforcement –steering his life and career toward public defense. He feels fortunate to fight for those battling systems of oppression and strives to reshape the discourse and nature of public defense and criminal justice as a whole.
is a Congolese multimedia artist, currently based in California. Cia began their art career with spoken word poetry, where they competed nationally and won multiple competitions including Oakland Poetry Slam's 2018 Grand Slam Finals and Berkeley Fiction Review's Sudden Fiction contest. They then went on to publish their debut collection in another life, no bodies home (Eastwind Books) and join UC Berkeley's Arts and Research Center as a 2020 Poetry Fellow. Cia's work engages with themes of diaspora, mental health and joy as radical resistance. Previously a judge of Oakland's 2017 YPL, Cia is excited to be a judge again and support the upcoming youth poets.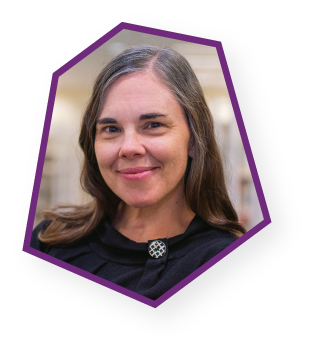 was appointed as the county librarian of Alameda County in 2017. Early in her career she was named a Library Journal "Mover and Shaker" AND got to drive the bookmobile at Arapahoe Libraries (Colo.). Prior to entering the strange, wonderful world of librarianship, Cindy received a master's degree in divinity from the University of Chicago and worked as a job counselor at a women's shelter on the south side of Chicago. She recently completed a Ph.D. in managerial leadership in the information professions (MLIP) at Simmons College, with a dissertation on power and public libraries. Cindy is proud mom to professional scooter rider Willy Cashion and four very spoiled cats.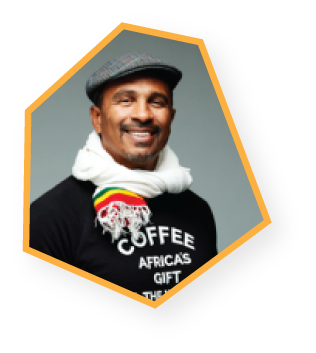 has invested his life as an artist, food entrepreneur and community man. His artwork has been widely published and exhibited in museums and galleries. He is the founder of Red Bay Coffee Company in Oakland, CA. Through his work he has embraced and hired people of all backgrounds and strives to be inclusive of those who have traditionally been left out of the specialty coffee industry, especially people of color, the formerly incarcerated, women and people with disabilities. In his spare time he enjoys aquaponic gardening, judo and making waffles while listening to ole time singer Valerie June.