Every year since 2010, AC Library partners with Alameda County Arts Commission to celebrate Art IS Education, a countywide arts education celebration during national Arts Education month.   
This year, AC Library presents free arts activities and virtual programming for all ages based on the theme "Art is Everywhere!" Try these do-it-yourself activities to explore your creativity and engage with our world in new ways.    
Art is Everywhere Creative Prompts 
Pick up a free paint-at-home watercolor sheet at all AC Library locations in March while supplies last. Or download a printable copy by clicking on the picture below. 
Make a frame with your hands to discover what is interesting around you.  
Collect and arrange objects to tell a story.  
Create a poem mixing and matching words around you.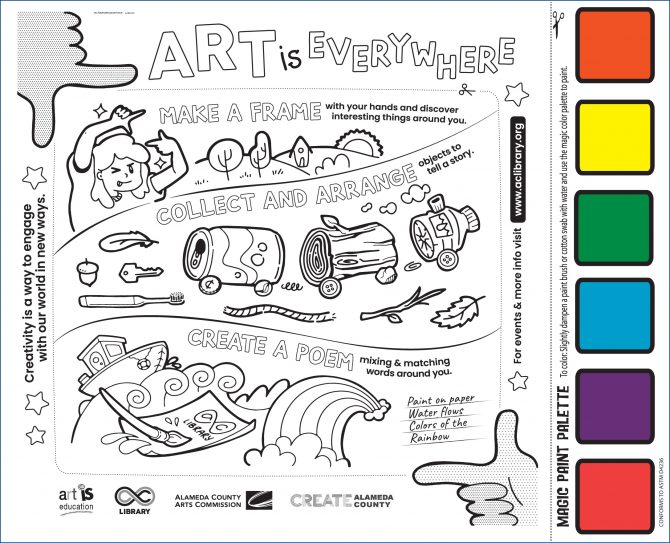 ---
Paint on Your Watercolor Sheet
Watch the video to see a range of options for how you can paint your sheet such as a swab, brush, or piece of tissue!
---
Enjoy Art is Everywhere Programs, Activities, and Resources 
Join in weekly Art IS Education virtual events:          
Art Café Gatherings – Gather together with others to work on your own project in a virtual creative community. Great for teens and adults.      
"Art is Everywhere!" Hands-on Workshops – Participate in a fun, guided, hands-on art experience for the whole family.               
Doodle It! Workshops – Learn simple step-by-step doodles led by some of our creative librarians. Great for kids ages 6 and up.               
Call the Listen Inn phoneline to hear guided Art is Everywhere activities. Dial 833-990-BOOK (2665).
Use these Topic Guide lists to learn about this year's theme-related books and links.         
We invite you to join us in explore our creativity and engage with our world in new ways. Follow us on social media this month and share what you have discovered, or post your thoughts in the comments box below!