One Valley, TWO Books, Many Conversations
Welcome to Castro Valley Reads!  What if all of Castro Valley read the same two books?  What could we learn from one another?
This community-wide literary event asks our residents to read and discuss the same books.  In addition to discussion groups, the program includes special events inspired by the themes in the book.
Castro Valley Reads celebrates our community by encouraging a thoughtful exchange of ideas through the joy of reading together.
Our topic for 2022 is climate change, an emotionally and politically fraught topic. To help meet our readers' interests and moods regarding climate change, we are offering two books. We hope you will read both books, but you may wish to read only one.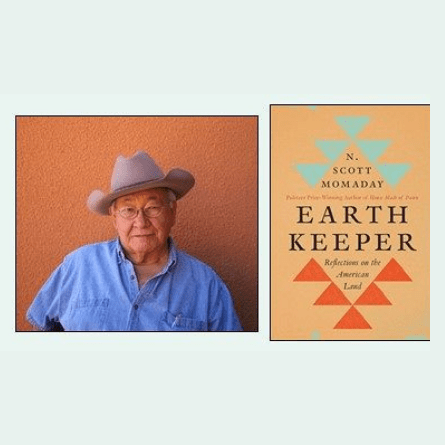 Kick Off Event with N. Scott Momaday
Two hundred Castro Valley Reads participants joined us on January 23 for a conversation with N. Scott Momaday, a Pulitzer Prize-winning novelist, short story writer, essayist, and poet whose work celebrates and preserves Native American heritage, particularly that of the Kiowa people.
Mr. Momaday discussed his book Earth Keeper: Reflections on the American Land with Alameda County Youth Poet Laureate and Castro Valley High School student Zoe Dorado and Librarian Chris Selig.
In Earth Keeper, a book of free-verse poetry, he reflects on his sacred connection to the American landscape and its influence on his people. Momaday shares his reverence for the natural world and calls on all of us to protect Earth's wonders and beauty. And in this video we get to hear more of his thoughtful insights.