AC Library joins the American Library Association (ALA) and libraries nationwide to remind our communities that there is nothing more empowering than signing up for your own library card. A library card is especially important to have at the beginning of the school year and can save you hundreds of dollars on educational resources.  
With a library card you can get free access to virtual homework help, STEAM programs/activities, DIY classes, job and career support, language learning, eBooks, and more. There is so much students and people of all ages can access with a library card. Pursue your passions and dreams through your library's resources and programs. Sign-up for a library card today!
Starting this month when you sign-up for a library card at your local AC Library, you'll receive our new library card design.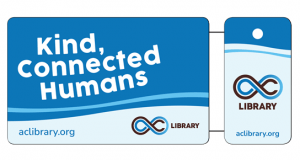 This year, Marley Dias, founder of #1000BlackGirlBooks, author and executive producer, is taking on a new role as honorary chair of Library Card Sign-Up Month. In her new role, Dias will promote the value of libraries and encourage everyone to get their very own library card.