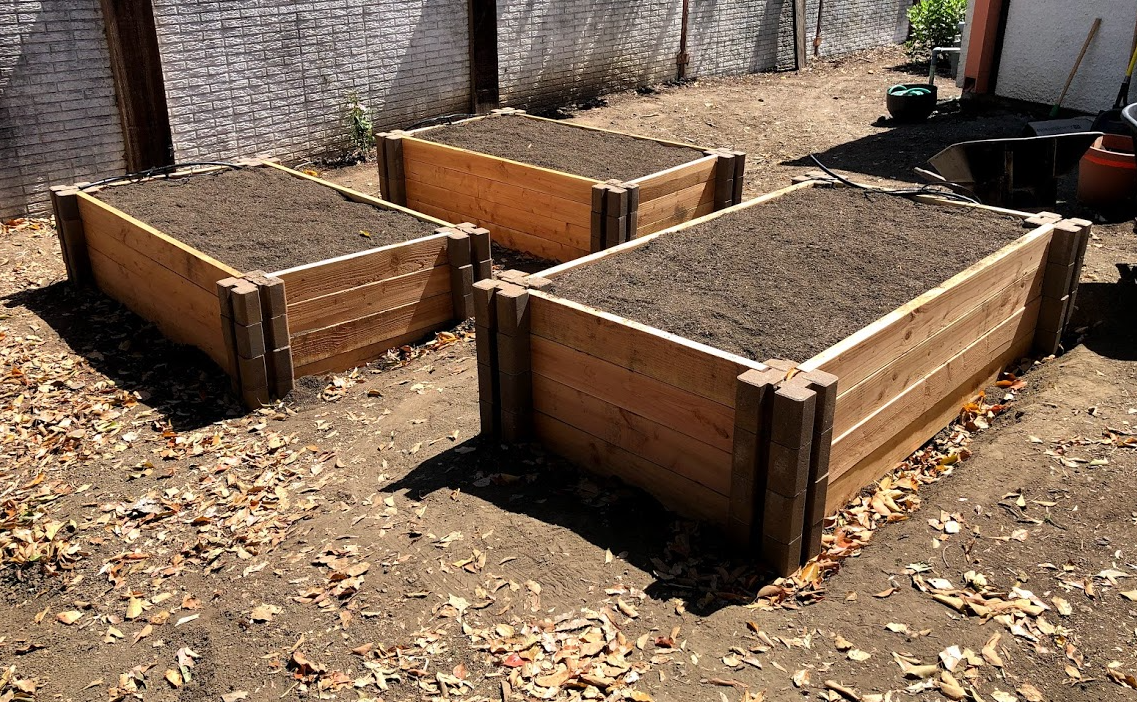 Raised beds built by Boy Scout Troop 120 of Fremont
Our Learning Garden started in May 2019 with just an idea. Soon we had some containers for planting, and  we taught classes for all ages in partnership with LEAF . "Salad Gardening for Beginners", "Dissecting Fruits and Vegetables", and "The Plant Life Cycle" were just a few of our classes in 2019. 
At the beginning of 2020, Vedant, from Boy Scout Troop 120 in Fremont asked if we had any need for an Eagle Scout project and... we had just the project in mind: to develop our Learning Garden. Throughout 2020, Vedant applied for grants, researched, and learned  how to build three raised garden beds with irrigation from a Master Gardener. The garden was finished in April 2021 after delays due to the pandemic.  
The Centerville Library Learning Garden is continuing to grow: with the three raised beds, multiple containers, and a large planted area around the library, we are raising fruit, vegetables, and flowers. This past winter we planted fava beans to help enrich the ground soil, and in May we harvested 54 pounds of them!  
To go along with our Learning Garden, Centerville Library also has a new Seed Library. Members can stop by the library during open hours to pick up different varieties of seeds to grow in their own gardens. Our friends at Dale Hardware donated a lot of seeds to get our Seed Library started, and members can help replenish our library by saving seeds from their harvest and donating them back to us. 
In 2019 Alameda County Library updated its mission statement to: "We Grow Learners, Break Barriers, Build Futures." We are growing learners at Centerville Library in our new Learning Garden!  
Once we can have in person programming again, we plan on continuing hands-on educational classes in the garden for kids, teens, and adults. 
For more information on saving seeds from your garden, please check out this website. If you have seeds to donate, please email us at fremontneighborhood@aclibrary.org. 
Centerville's Seed Library